GUEST HOUSE (BED & BREAKFAST)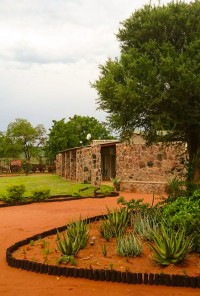 Farmstyle Guest House
Background
Our guest house is a renovation of the farm owner's homestead on one of the original farms that now forms part of the larger Nimeng ranch.  The architectural design of this homestead was particularly popular in the "golden oldy" days before television.
Everyone living in the house usually convened in the lounge after after sunrise or before sunset. They received their cups of coffee and meals from the kitchen, while enjoying each other's company in the lounge before knocking off to work on the farm early in the morning or going to bed for a snooze in the evening.
Accommodation Facilities
This renovated farmhouse comprises the following accommodation facilities:
Three bedrooms with en-suite bathrooms.
A bedroom with two single-beds without en-suite bathroom.
Four single bedrooms in a separate building without en-suite bathrooms
External ablution facilities for men and ladies. 
Each bedroom has the name of an indigenous bird that can be spotted on the ranch. The interior decoration of rooms represent the particular feather colours of the selected bird. All the bedrooms are very comfortably furnished and the bedrooms in the main building are air-conditioned. En-suite bathrooms have showers, toilets with grooming facilities. Bedrooms without en-suite bathrooms share external showers, toilets and grooming facilities. 

The single bedrooms meet the needs and requirements of overnight business guests such as agricultural sales representatives, farming quality inspectors, business consultants, insurance brokers, etc.  
The double-bed bedrooms with en-suite bathrooms are the ideal lodging place for visitors who just want to relax and enjoy the bush and farm life at Nimeng, and who don't want to be bothered with the "schlep" of cooking.
Kitchen, Cooking and Meals
The homestead has a large kitchen and large combined dining room/lounge. The kitchen is exclusively used for cooking meals for guests residing in this guest house. Meals include:
On request, the kitchen will also prepare and provide lunch boxes for residing guests.

Environment
The building complex and its colourful garden is ring-fenced. There is also a fire circle in the centre of the front lawn for guests who want to enjoy an outdoor "braai", in silence with the far away sounds jackal, owls and other nocturnal wildlife.