HOME PAGE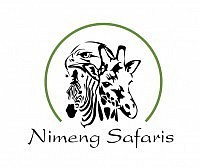 Our distinctive Logo
INTRODUCTION
This beautiful privately owned game ranch is situated on the R523 Waterpoort Road, 10km north east of Vivo in the Limpopo province of the Republic of South Africa. It is about 90km South of the South Africa/Zimbabwe border. The terrain of the ranch is situated right below the west-end beginning of the majestic Soutpansberg mountain range, about 4 hours travelling time from Pretoria and not more than 5 hour from the OR Tambo International Airport.  
THE RANCH
The game ranch constitutes two distinct sections. The largest section, 2 576 ha in size, is a flat area comprising of a large open grass land and areas populated with dense trees and shrubs. The other smaller section is 420 ha in size. It comprises a rocky mountainous area with a breath-taking plateau on its southern side and large savannah below the escarpment. The diversity of biological entities on this ranch provides the eco-tourist and hunter with inundated opportunities to embrace a large variety of indigenous trees, shrubs, grass, wild animals, reptiles, birds, insects and other wildlife species on a challenging terrain worth exploring.  
PRODUCTS AND SERVICES
Nimeng Safaris is our brand name through which we offer exciting hunting, leisure and eco-tourism products and services.
Our purpose is to connect you with the spirit of Africa and to provide you with memorable experiences that will generate unforgettable memories. 
If you want to explore African bush, view exquisite African sunsets, or just want to relax and dream under pure African skies, Nimeng is the place to be!